The County Seat of Polk County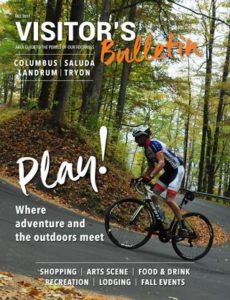 Columbus, NC is a gracious little town of neighbors and friends. We love showing guests around, showing off our businesses and attractions. Come for a day, a romantic weekend or longer. You'll appreciate our history and hospitality. We appreciate your visit.
Along with our Events and Downtown Walking Tour you will find even more things to do here in Columbus.
See the Champion Traveler for the best times to visit Columbus for ideal weather.
Attractions
Black Bear Adventures – for the serious cycle enthusiast
DeerHaven Hills Farm – A blueberry & muscadine grape farm, visit by appointment only
Green Creek Pottery – Doug Dacey's fine porcelain, from functional pieces to architectural sculptures
Green Creek Winery –  First in the world to produce the revolutionary Chardonnay Rosso in 2007
House of Flags Museum – the only flag museum in the US, lots of history.
Overmountain Vineyard & Winery – Family run with handcrafted French-style wines,
Parker Binns Vineyard & Winery – Weekly music events and annual festivals at The Barn.
Russian Chapel Hills Winery – Vineyards surrounding the beautiful St. Anna Chapel
Shunkawauken Falls – A unique roadside 150-foot tall waterfall you can actually drive over.
Stearns Park – A lovely place to walk, picnic, watch the comings and goings of downtown Columbus.
Veterans Park with the Charters of Freedom.
For Accommodations, D
ining, Shopping and more, please see the
Business Directory