Read About it Below or Listen
"Officially opened in April 1980 the Polk County Historical Museum houses many of the artifacts important to Polk County. Photographs and postcards of scenes across the county are just one of the aspects of the collections housed and on display here.
A walk through the museum will give you a glimpse of life from days past. Historic farm tools, the first cannonball fired at Fort Sumter in 1861, a 90-year old printing press and yes an authentic moonshine still are among the many artifacts on display.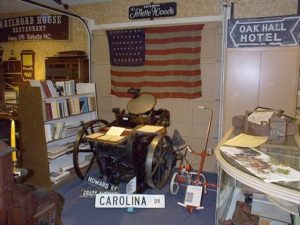 Recently the museum has added a genealogy center for people whose family roots began in this rural county. Come look up, study and learn about those ancestors who carved their farms and businesses out of the wilderness.
The museum is open Tuesdays and Thursdays from 10am to 1pm and Saturdays from 10am to 4pm. Come learn from the hundreds of items most generously donated by families across Polk County. Best of all, admission into the museum is free."
Link to UgoTour narration coming